Interior Design magazine has chosen the "Best of the Year" for 2013, and we'd like to congratulate our client, Meyer Davis Studio for winning "Best of the Year 2013: Fine Dining". Their project "Harlow" remodeled a historic space once the private entertainment venue of William Randolph Hurst. Perhaps as much a restoration as a renovation, the Harlow project brought the best of the 1930's grandeur forward to the modern day.
The award-winning design features some of Villa Lagoon Tile's most popular designs in several places.  "Lantern Trellis" and "Cubes" can be found in the elegant restrooms, as well as a larger version of Cubes in a conservatory dining annex, that gained a mention in Interior Design's original project article, "Blond Ambition".  This installation in particular shows cement tile's versatility, using solid and two-color tile to provide a larger scale of Cubes design.
While our ever-popular "Cubes" cement tile was used in the stately-men's room, a different feel was desired for this dining area.  A larger patterned is achieved by the creative arrangement of the simplest tiles in our toolkit: solids, and the two-color diagonal. This layout also shows how easily a designer could use cement tile to create grand, custom chevron patterns.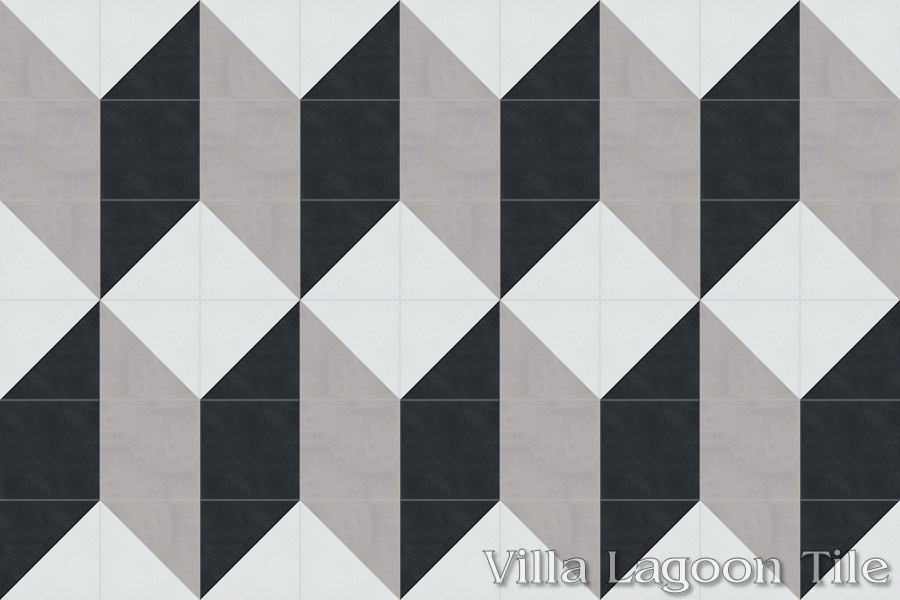 The writers of Interior Design are not the only ones taking a notice to the renewed luster of this Midtown Manhattan jewel…  Harlow is quickly being recognized as a great experience, and has already been the venue for parties hosted by Madonna, Woody Allen, and others in the New York social scene.
---
Update April 27, 2016: Unfortunately Harlow has closed. Their original site can still be found in the Internet Archive.
The flame that burns twice as bright burns half as long. –Laozi